Thank you for visiting our website.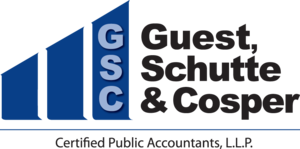 Guest, Schutte & Cosper, CPAs, LLP is a full-service accounting firm serving clients throughout the area, dedicated to providing our clients with professional, personalized services and guidance in a wide range of financial and business needs.
We have seasoned professionals who can assist you in any number of diverse services. Whether you are new to our site, or returning for a visit, we hope to provide you with timely and valuable information. As your business partner, we understand your need to save time and we will work with you to find effective solutions for your business needs. We strive to build and maintain long-lasting business relationships, and this website is an extension of our commitment to you.
Please feel free to contact us for additional information about our firm and the services we offer, or to make suggestions regarding our website. Email us or give us a call and we will get started serving you today! We look forward to speaking with you soon.
Guest, Schutte & Cosper, CPAs, LLP is committed to your success. We make it our business to know your business well enough to improve your tax position, capital position, business structure and benefits packages, acquisition potential, and much more. We earn our fees by adding value to your company and to your asset base.
We have learned a great deal since we began in this business, and we are ready to apply this knowledge to enhance your company's growth and success. Together we can conquer all of the intricacies of doing business in today's fast-paced economy. We are looking forward to working with you.